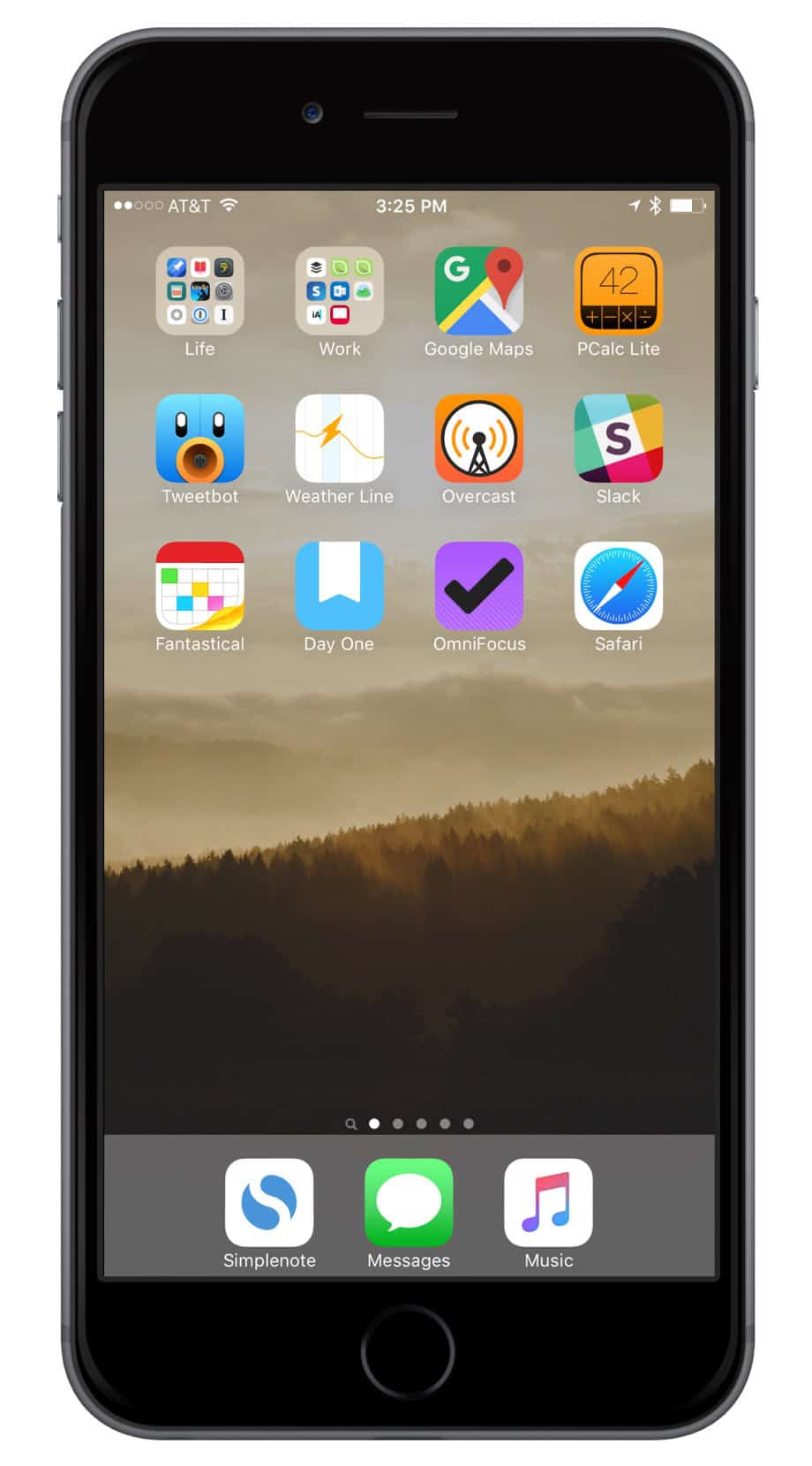 "Hercules"
Wallpaper via Unspalsh.
The First home screen is a peculiar spot. You want it populated only with the most frequently-used apps. But, what happens when there are but a few apps that you often?
My first Home screen has a few "classifications" of apps:
* Those I use several times per day: Slack, Tweetbot, Weather Line, Fanastical, OmniFocus, Safari, Simplenote, Messages, and Music.
* Those I use several times per week: Overcast, Day One, Google Maps, and Instapaper.
* Those I use often enough that I like to know exactly where they are: such as VSCO, 1Password, Pcalc. I also a couple of folders with some miscellaneous apps related to work and life.
Just a little over two years ago, I [wrote](https://shawnblanc.net/2013/12/my-iphone-app-playlist/) about all the iPhone apps I used at the time. Since then, things have changed quite a bit for me. Not only have I consolidated the amount of iOS apps I use now compared to then, but I'm also trying to use my iPhone [less often](https://shawnblanc.net/2014/11/alternatives-to-the-just-checks/).
Another big change (pun intended) is that I'm currently rocking the iPhone 6s Plus, which is just altogether a different device than the iPhones of yesteryear. As I'll get to in a second, because the iPhone 6s Plus is a two-handed device, it lets me get away with having less apps on my first home screen. Since 95-percent of the time I'm using two hands, I don't usually *need* to have the apps reachable by thumb when holding the device with just one hand.
If you're wondering, I'm not nearly as thoughtful with my second, third, fourth, and fifth (!) Home screens. Those screens are basically no-man's land. One of my email apps is over there; there are apps I've downloaded to try out that are now just floating around; some games; and other miscellany.
#### A Brief Aside About the iPhone 6s Plus
Last fall, I went big. [I bought the iPhone 6s Plus](https://shawnblanc.net/2015/10/thirteen-days-with-an-iphone-6s-plus/), named it Hercules, and decided to give it a shot. It has definitely taken some time to get used to, but I think I've certainly acclimated.
The tipping point was when I no longer tried to treat the Plus as a one-handed device. For years and years my iPhone was something that could be used with one hand. The Plus? Not so much.
But, once it became natural for me to use both hands when dealing with the Plus, it stopped being an awkward device and the advantages of the larger phone — namely the larger screen and superior battery life — are absolutely wonderful.
With the battery life, I often forget just how spectacular it is. I can't remember the last time my iPhone's battery was in the red.
Another thing with the iPhone 6s Plus is that it somehow managed to take over the spot my iPad used to hold. It was such a sly move I never saw it coming. But somehow, over the course of a few months, I just stopped using my iPad for reading and note taking.
In part, I think it's the speed. My 6s Plus is quite a bit faster than my 2nd generation iPad mini. But also, it's that the iPhone is just big enough that it's not worth bringing along and using another iOS device for the purposes of reading, researching, and note taking.
Perhaps I'll get a new iPad when it eventually comes time to replace [my 5-year-old MacBook Air](https://shawnblanc.net/2011/08/macbook-air-review/), but I'm not sure. I'm pretty happy with my iMac in the office and my iPhone everywhere else. And, for when I'm on the road and need to work, my Mac Book Air still gets the job done.
That said, today's article is all about the apps. So let's dive in…
### My iOS Apps and Workflows
This will almost certainly be far less nerdy than it sounds.
Today I mostly just want to share a bit about the iPhone apps I rely on the most, why I use them, and how they fit in to the day-to-day rhythm of my life.
#### [Simplenote](http://simplenote.com)
We'll start with Simplenote because if I had to pick just one single app to have on my phone this would be it.
There are many, many, many apps that allow you to create notes and sync them to your iPad and Mac. And most of those apps are far more feature-rich than Simplenote is. But I don't mind.
I've never been let down by Simplenote's speed, reliability, or search. It handles these features with flying colors and to me they are the most important features of all.
With Simplenote I have the ability to find any note I'm looking for within a matter of seconds, I've never lost a note, and I've never felt that I'm using the app wrong.
In a future post I'll write more about my writing routine, what I do with all my bad ideas, and the like. But for now I'll just say that Simplenote is pretty much at the heart of it all.
#### Messages
If I could have just *two* apps on my iPhone, the second would be Messages. Because I like to text with my friends and family. Who doesn't?
#### Apple Music
First, a moment of silence for Rdio…
While Apple Music has a lot going for it, it is without its charms. But, nevertheless, I use it every day.
My home office is downstairs. And directly above it are hardwood floors and two toddler boys. Which means I wear headphones almost all morning.
The first thing I do when beginning my work day is to put on those headphones and hit play on the Monument Valley soundtrack and listen to that music for an hour or two while I write.
#### [Fantastical](https://itunes.apple.com/us/app/fantastical-2-for-iphone-calendar/id718043190?mt=8&at=11l7ja)
The best app there is for calendaring and remindering on iOS.
#### [OmniFocus](https://itunes.apple.com/us/app/omnifocus-2/id904071710?mt=8&at=11l7ja)
I've been a hard and fast OmniFocus user for [more than half-a-decade](https://shawnblanc.net/2010/10/omnifocus/). Something I've always liked about the app is that it can be flexible to work the way you work best.
When I first began using OmniFocus I was managing an in-house design team. At any given time we had roughly 45 active projects. It was crazy. And OmniFocus helped me keep everything moving forward.
Nowadays, I have about 3 or 4 active projects at a time. I'm managing far less action items. And in both situations OmniFocus could be as powerful or as simple as I need it.
I should say, however, that I'm considering a move to Wunderlist. At the beginning of this year Blanc Media hired it's first full-time employee, and so now I'm looking at getting a task management system that allows for group collaboration.
#### Safari
Probably my favorite 1st-party app on iOS (Trailers is a pretty stellar second) and, if you count in all the in-app browsers that use Safari, this is surely the app I use the most on my iPhone.
#### [Tweetbot](https://itunes.apple.com/us/app/tweetbot-4-for-twitter/id1018355599?mt=8&uo=4&at=11l7ja)
For checking the Twitter, [of course](http://thesweetsetup.com/apps/the-best-ios-twitter-apps/).
#### [Weather Line](https://itunes.apple.com/us/app/weather-line-temperature-trend/id715319015?mt=8&at=11l7ja)
Every night before I go to bed, I set out my clothes for the next day. And so I'll check what tomorrow's weather is going to be so I can dress accordingly.
#### [PCalc Lite](https://itunes.apple.com/us/app/pcalc-lite-best-free-calculator/id300311831?mt=8&at=11l7ja)
Yep. I can't every post a picture of my iPhone Home screen without getting comments about how I use Pcalc Lite. Well, it's not. I have the full version of PCalc via in-app purchase, but went with the "Lite" app because I prefer the looks of the orange icon over the blue one.
#### [Slack](https://slack.com)
Who's *not* using Slack these days? This is the app we use to communicate about and basically run Tools & Toys, The Sweet Setup, and The Focus Course.
#### [Scanbot](https://itunes.apple.com/app/id834854351?mt=8&at=11l7ja)
This is the app I use to take photos of business expense receipts when I'm out and about. It does OCR on the receipt and uploads it to my "Receipts" folder in Dropbox.
#### [1Password](https://itunes.apple.com/us/app/1password-password-manager/id568903335?mt=8&at=11l7ja)
Of course. Thanks to iCloud Keychain I don't need to open up 1Password on my iPhone all that often, but it's still a critical app.
#### [Instapaper](https://itunes.apple.com/us/app/instapaper/id288545208?mt=8&at=11l7ja)
While I still use Instapaper every day (to send things to it) I only read about a half-dozen articles in a week (if that).
Nearly all of my reading is with physical dead-tree books now a days. It started over a year ago when I ordered a whole slew of books off Amazon while researching for The Focus Course. It was far cheaper to order used books from Amazon than to by the Kindle versions. And then I just got hooked on how much easier and faster it was to read a paper book.
Speaking of reading, savvy readers may have noticed a lack of an RSS reader in my list. Since all the reading I do these days is with physical books, I haven't check in on my RSS feeds in at least a year.
#### [Overcast](https://itunes.apple.com/us/app/overcast-podcast-player/id888422857?ls=1&mt=8&at=11l7ja)
This is the app I use for listening to podcasts whenever I'm in the car. Which, since I work from home, isn't all that often.
Even though I'm subscribed to a few dozen podcasts, I only listen to about 1-2 episodes per week. And so I'm very particular about which episodes I listen to, choosing only the ones that look the most interesting or relevant to me.
Which is why my number one feature request for Overcast would be a custom playlist that works like a "listen later" queue. I'd love to be able to flag individual episodes and have them show up in a list and I could just work my way through that list.
#### [Day One](https://itunes.apple.com/us/app/day-one-2-journal-+-notes/id1044867788?mt=8&at=11l7ja)
Though I use Day One all the time, it's not always from my iPhone. I also do a fair amount of my writing from the Mac. But what I love most about the iPhone version is how I can quickly snap a photo and create a new journal entry with that photo, add in a brief caption, and the location data is automatically placed. Between a picture, the geo-tagged location, and a brief explanation, it's pretty easy to have a robust journal entry in a few seconds.
* * *
When I first started writing this article a few days ago, my home screen had one more row of apps than it does now. But the process of writing about the apps helped me realized that I had more apps than I wanted. So, thanks to a couple folders on the Home screen and the ability to search for an app from any Home screen, I've simplified things a bit.
As I wrote last week, the apps and workflows we use need [an audit](https://shawnblanc.net/2016/02/audit-your-workflow/) from time to time. For me, just the process of writing this article caused me to think again about if the apps that were on my Home screen were the apps I still wanted there.