John Rust is a freelance videographer, web designer, writer, and college student. He also tends to constantly dabble in graphic design, photography, music composition, live audio productions, and programming.
### John's Setup:
#### 1. What does your desk look like?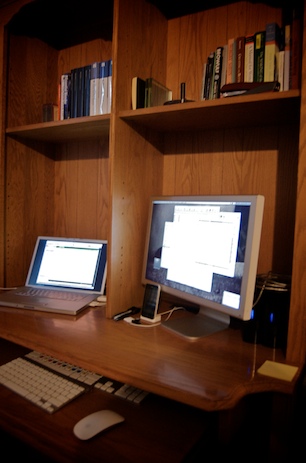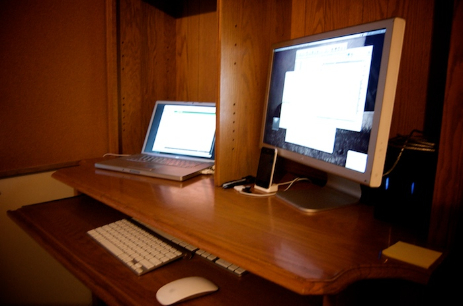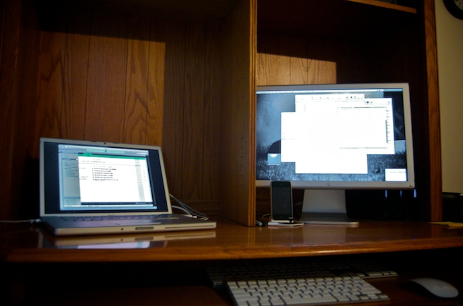 #### 2. What is your current Mac setup?
I'm using a mid-2007 2.2GHz MacBook Pro with an anti-glare screen. I have a 20″ Apple Cinema Display (the old aluminum kind) plugged into the MacBook Pro whenever I'm at my desk. I've got both a wired and a wireless Apple keyboard (the aluminum type), which I switch between depending on what I'm doing and my mood at the time. I consider my Magic Mouse to be the most amazing Apple product released in the last year.
Next to my computer are three WD My Book drives providing me with 2TB of total storage for photos and videos. I've also got a set of small speakers also on my desk; I don't particularly care about the quality of them because I usually have my music playing pretty quietly in the background.
There is also an old eMac lying around somewhere which I use occasionally as a local web server. The problem with my setup, in a nutshell, is that I juggle hats so often that I'm constantly adjusting my setup to better fit what I'm doing.
#### 3. Why are you using this setup?
I bought the MacBook Pro so I could have a computer that did everything I needed it to do — from video editing to document editing — and still be portable enough to take almost everywhere. It's certainly not as powerful as a Mac Pro, and its limitations are more than obvious at times.
Even though it's the smallest model, the Cinema Display is pretty much all I need now in terms of screen space. Sure, editing in Final Cut Pro is more fun with a bigger screen, but it's not necessary (and it won't fit on my desk very well). I can't live without FireWire 400, and the hub on the back of the monitor is wonderful when I need it.
#### 4. What software do you use on a daily basis, and for what do you use it?
I use a lot of software, and I'm usually testing and playing with new releases to see if I like them. Overall, my most-used apps are iTunes, Mail, Skype, iChat, Tweetie, Fever, and Safari, like pretty much everyone else who reads this site.
Besides that, my most-used apps would be:
– The Hit List. I keep switching between The Hit List and Things, but The Hit List is usually my favorite. Hopefully there'll be an iPhone version of it at some point in the near future.
– Photoshop CS4. I upgraded from the original Photoshop CS, and the upgrade was definitely worth it. I can't say anything glorious about an Adobe product, but it is what I use for photo editing, design work, mockups, and essentially anything having to do with image manipulation.
– Final Cut Studio 3. I'm in a love/hate relationship with the applications in this suite. They're incredibly powerful and functional, and do everything I could ever need to do in terms of video editing. Yet the work I do in them tends to slow my computer to a crawl, and I really wish the interface would get a facelift.
– Espresso and CSSEdit. Basically everything web-related goes through these applications. I absolutely love the live preview feature of CSSEdit, and I enjoy tweaking stuff on my site (and other sites) with it.
– [Aperture](http://www.apple.com/aperture/). I completely fell in love with this application the first time I saw it in use, and I never could go back and use iPhoto. All my images (besides my LittleSnapper library) are cataloged in aperture, and in my opinion it has set a standard for how user interfaces should be designed.
– MarsEdit. Because writing and editing blog posts in the WordPress admin area just isn't fun.
– TextWrangler. You can't beat the price of this application. It's everything I need in a text editor and more; I prefer it to Pages a good bit of the time. In fact, I am writing everything in this interview in it.
#### 5. Do you own any other Mac gear?
I own a white 16GB iPhone 3G (the Evil Empire won't let me upgrade to a 3GS), and the Apple Bluetooth Headset which I use in the car. I have an AirPort Express that tends to bounce around the house depending on where it's most needed at the time.
#### 6. Do you have any future upgrades planned?
I'm in need of a new computer at some point in the future, but I don't know what to get. A MacBook Air is almost necessary for college (I've strained my shoulders enough carrying around a MacBook Pro and lots of textbooks), but incredibly limiting for everything else. A 27″ iMac would be great for everything except for school. I'll probably just settle with a high-end MacBook Pro and hope I don't have to deal with files from a RED camera anytime soon.
### More Sweet Setups
John's setup is just one in [a series of sweet Mac Setups](http://shawnblanc.net/sweet-mac-setups/).